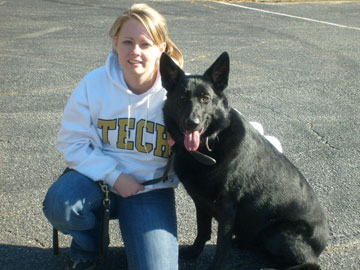 In May of 2007 I drove to a breeder in TN to pick out my second German Shepherd, a solid black female that I named Alana. From the day I got her, I noticed how incredibly intelligent and driven that she was in everything she did. Her first year went by with her being a playful companion to my other German Shepherd, but I noticed something different in her. She was strong willed, powerful, and always looking for a new challenge.

Nothing seemed to satisfy her intelligence and her determination to fulfill her working- dog spirit. When Lana turned 18 months old, I moved out to live alone and it finally occurred to me what I could do with Lana to fulfill needs in both of our lives. I was referred to Quinn by a friend who

had experienced his expert training with 3 of his own dogs. Quinn came out to meet Lana and assess her abilities to see what kind of protection training we could start off doing with her. From day 1, she impressed him with her spirit and determination to learn. She and I have an incredible bond that allowed for her to immediately go into protecting me without even starting the training yet! Quinn determined that she would be a great candidate for personal protection training, and we began that day. Within just 7 short sessions at my home, I promise you I sleep soundly at night. Lana knows how to alert me to anyone approaching my property, how to protect my home from any intruders, and to personally protect me weather we are at home or out walking in the park. He even taught her how to protect me while riding in my car, and jump out to come to my aid if the situation were to ever present itself. While all of that is more than I could have ever have asked her to do for me, she also has learned to be one of the most obedient and gentle dogs I have ever met. She knows when it's time to work and when it's time to be a sweet and playful girl. I am so confident in her abilities, and I know that I am safe with her by my side. As a woman living alone in this scary world, it's nice to know that I can lay my head down on my pillow at night and trust that Lana is watching over me. I owe it all to Quinn and his incredible training with her. We continue to do follow up sessions every few months to make sure Lana is still up to speed, and she never misses a beat. She's found her purpose in life and loves what she does for me. I am so proud of my dog and how far she came through her training- how confident, alert, and disciplined that she's become. Our bond has only grown stronger through working with her and giving her a "job" to do, and I know that not only is she a lot happier, but I am as well! Thanks to "Q" and K-9 Strike Team, Lana and I are forever appreciative of what you've taught both of us!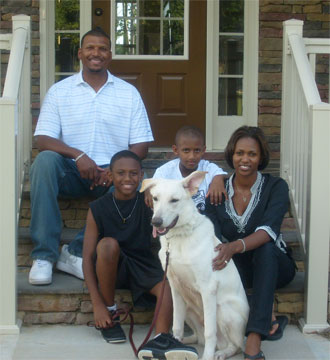 We are an active family of four who finally decided to bring a pet into our lives. After narrowing down our choice of breed that best fit our lifestyle, we fell in love with a German Shepherd we named Caesar. Trying to be the best parents, we sent him to the Puppy Academy at our local pet store. Although it gave some insight on how to train Caesar, there was a lot lacking after the program was over. Frustration set in and we were just not enjoying our days with Caesar. Walking him was filled with being pulled along the way, coupled with us choking him with an improper collar and lead. Not to mention trips to the pet store and Vet that were embarrassing to us and time consuming. We were just too uniformed to properly train Caesar and as he got bigger, we saw something had to be done. Finally, we were referred to K9 Strike Team. After meeting with Quinn Heckstall and reviewing our time commitments, we decided to send Caesar to the K9 Strike Team facility for training. We were a little hesitant at first to send Caesar away for the time period of the training. But when Mr. Heckstall returned Caesar home for the first handling training with us, we could immediately tell that Caesar was well taken care of and that he were in the best hands. The difference of the dog we sent away and the dog that was returned to us was astounding. Mr. Heckstall went over all of the commands that were taught to Caesar and the way Caesar responded had the entire family in awe. After supplying us with the proper collars and leads for continued training, Mr. Heckstall stayed with us demonstrating the proper way to handle Caesar until we were comfortable in all of the techniques. Even offering himself at anytime for questions. He returned for another follow up training on handling Caesar and addressed small questions that we had, immediately correcting them. To say the least, Caesar is a joy in our lives now. He behaves properly in the house and no longer expresses overly aggressive behavior. Walking him is enjoyable and taking him out to socialize and showing off our dog is even more enjoyable. We constantly receive comments on how obedient Caesar is and we are quick to mention it's because of his training. We have already recommended K9 Strike Team to our friends and we will continue to tell everyone we know of the professionalism, compassion, and dedicated training and superb treatment we received from K9 Strike Team!

| | |
| --- | --- |
| | |
We are eternally grateful!
In desperation, we called Que to help with our 3 year old dodson-pekingese. Lady has had two previous owners before the age of 2. When she came to us she was far from being a lady. Thanks for helping us understand more about our dog and how to calmly and kindly improved her behavior.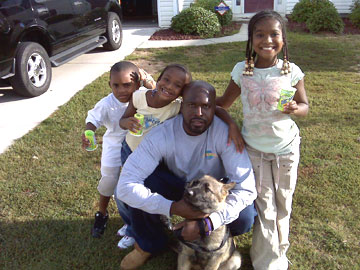 A.J. has been a great asset to our family. Not only has he been a joy to be around, he is very good with our kids. A.J. helps my wife and I teach our children about responsibility.